Chartered September 22nd 1980
Amwell Rotary Club
Amwell Rotary Club is part of the worldwide fellowship of Rotary Clubs that makes up Rotary International.
Rotary clubs are firmly based within local communities, with their members meeting on a regular basis to enjoy friendship, networking, and to plan projects that will benefit the lives of others.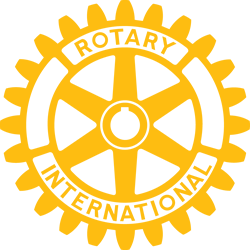 We work to give something back to our communities - locally, nationally and globally.
We always welcome enquiries from like minded people who want to find out more about us, about who we are and what we do.
There are more details about Rotary membership HERE
Weekly Meetings
Amwell Rotary Club meet each Monday (Bank Holidays excepted) at 7.00 pm for 7:30 pm at
Hertford Rugby Football Club
Highfields
Hoe Lane
Ware
SG12 9NZ
What happens at meetings?
Usually we will have a guest speaker - although roughly once every two months we will hold club committee meetings. Following committee meetings, we will then have a business meeting a week or two after.
Our Satellite Group meet more informally once a month to discuss projects and activities.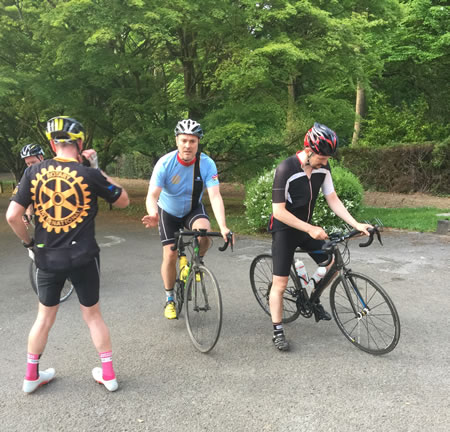 They remain full members of Amwell Rotary Club and are free to come along to the main Monday Meetings whenever they want.
There are more details HERE
The fellowship we enjoy over a meal or a beer and a chat, and the friendships that grow from that, reflect in the many and varied service projects we undertake and the other good causes that we support each and every year.
Read more about our activities HERE
Interested?
Then why not CONTACT us to arrange to come along to one of our meetings as our guest?
We may well surprise you as there really is rather more to us than just meeting once a week for dinner!
Where is Amwell?
Great Amwell is a small village in the county of Hertfordshire, England, some twenty miles North of London.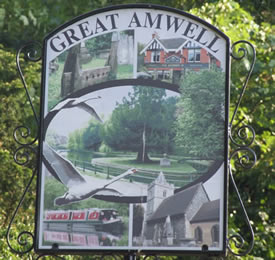 When Amwell Rotary Club was formed, the name was chosen as being pretty much at the midway point between the three already existing Clubs - Hertford, Ware and Hoddesdon.
Now as then though, our membership is mainly drawn from the larger towns and villages in the surrounding area.
Ware Choral
Amwell Rotary Club President Roger Williams visited Ware Choral on Sunday September 12th as they were holding a private concert to mark Julian Williamsons retirement after 40 years as their Musical Director.
On behalf of Amwell Rotary Club, Roger presented Julian with a Paul Harris Fellowship in recognition of his tremendous contribution to choral singing in the local area and the enjoyment he has brought to so many people over the past 40 years.
The Etape d'Amwell 2021
A huge WELL DONE to all of the members of our Amwell Sports Satellite Group for organising this year's Etape d'Amwell Cycling event! It looks like all of the riders really enjoyed themselves.
Thanks are also due to all of you who took part - your support will mean so much to the charities and good causes that Amwell Rotary support, especially Isabel Hospice.
Here's a photo from the first food stop.
Paul Harris Fellowships
One of our original Charter Members, Brian Walsh was finally presented with his Paul Harris Fellowship Award certificate and lapel pin at our meeting on August 2nd.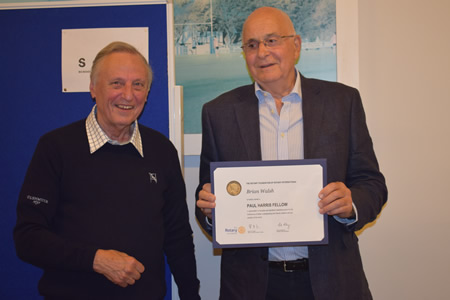 The award, for outstanding Rotary Service over the past 40 years, was originally made in September of last year to mark our 40th Charter Anniversary.
Congratulations Brian!
Brian already knew about his award, unlike Amwell Rotarian Vic Knowles who was presented with a Sapphire Paul Harris Fellowship Award, marking the second time his outstanding service to Rotary has been recognised.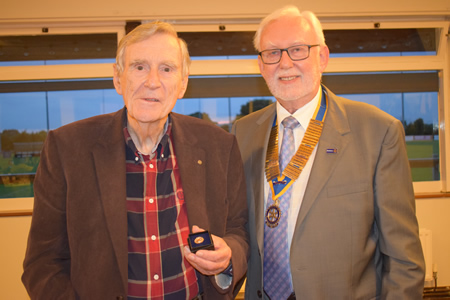 It came as something of a surprise!
Well done Vic, thoroughly deserved!
President's Picnic
Amwell Rotarians and partners were finally able to enjoy a picnic together on August 1st to mark 2020 – 2021 Club President George's year in office.
Originally planned for the end of June, the event had to be put back when Covid restrictions remained in place.
A great time was had by all and thanks are due to Ken and Gay for hosting the event in their garden.
Polio Eradication
We believe that the world is on the brink of seeing "the very last case of polio"
Rotary International has been focusing on eradicating the disease for over 30 years.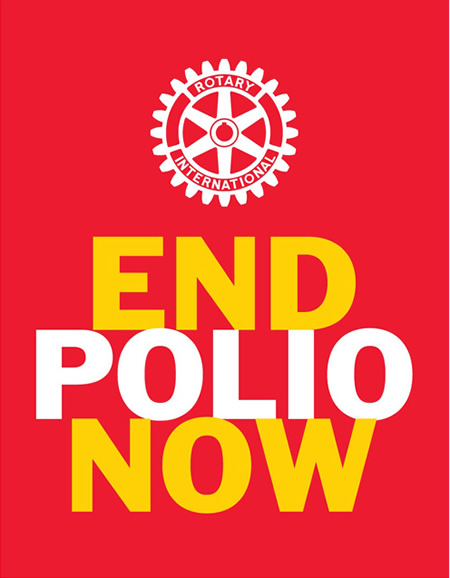 Eradicating the last few cases is a big challenge as they are in countries where transporting and delivering the vaccine is often disrupted by civil war, conflict and local hostility
Despite this, the number of cases is falling dramatically due to fantastic work from Rotarians around the world.
Read more HERE
STOP PRESS!
Thanks to dedicated @Rotary members, health workers, donors, local & national leaders, and partners, the @WHOAFRO region is officially wild polio-free!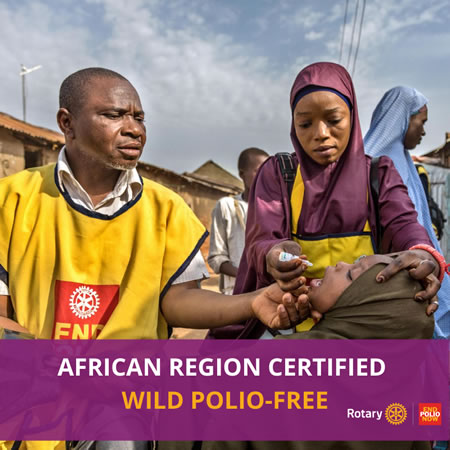 The Rotary Foundation
The Rotary Foundation marked it's centenary in 2017.
An endowment fund, set up by Rotarians in 1917 with an initial contribution of $26.50, became a not for profit corporation known as The Rotary Foundation in 1928.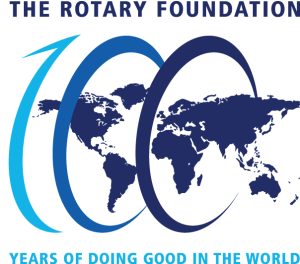 Upon the death of our founder, Paul Harris, in 1947, a massive influx of Rotarian donations made in his honour - totalling some US$2 million - launched the Foundation's first programme, graduate fellowships, later to be known as Ambassadorial Scholarships and now Rotary Global Scholars.
Today, contributions to the foundation total more than US$80 million each year and support a wide range of humanitarian grants and educational programs that enable Rotarians to bring hope and promote international understanding throughout the world.
Read more about it HERE
Serve to Change Lives
RI President-elect Shekhar Mehta is urging members to become more involved in service projects, saying that caring for and serving other is the best way to live because it changes not only other people's lives, but also our own.
Follow us on Twitter
October is: -
Economic and Community Development Month
Rotary supports investments in people to create measurable and enduring economic improvement in their lives and communities.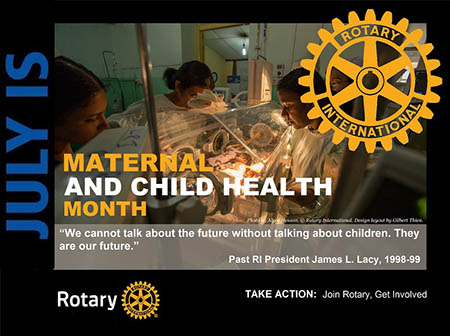 The Rotary Foundation enables Rotarians to invest in people by creating sustainable, measurable and long term economic improvements in their communities and livelihoods by :
1. Building the capacity of entrepreneurs, community leaders, local organizations, and community networks to support economic development in impoverished communities;
2. Developing opportunities for productive work;
3. Reducing poverty in under-served communities;
4. Supporting studies for career-minded professionals related to economic and community development.
Donations 2020 - 2021
Amwell Rotary Club were able to make donations to the following charities and good causes during Rotary Year 2020 - 2021
Bengeo Primary School
Carers in Herts (including Young Carers)
SPACE Herts
Hertfood
CHIPS
Herts Young Homeless
Citizens Advice East Herts
REFUGE
The Salvation Army
Always Bee You
The Friends of Danesbury
Keech Hospice Care
KidsOut
Mudlarks
The Samaritans (Ware Branch)
The Rotary Signature and the Rotary Mark of Excellence are the exclusive property of Rotary International and they are used here under Rotary International Internet Policy Guidelines.
Links in the text are denoted by CAPITAL letters. External Links from this website open in new windows or tabs. Please close them to return to this site.
Amwell Rotary Club cannot be responsible for the content of external sites.
We can be contacted by email to secretary@amwellrotary.org.uk