Chartered September 22nd 1980
Amwell Rotary Club
Amwell Rotary Club is part of the worldwide fellowship of Rotary Clubs that makes up Rotary International.
Rotary clubs are firmly based within local communities, with their members meeting on a regular basis to enjoy friendship, networking, and to plan projects that will benefit the lives of others.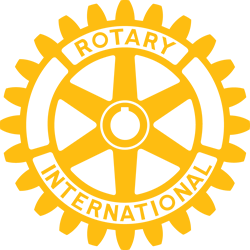 We work to give something back to our communities - locally, nationally and globally.
We always welcome enquiries from like minded people who want to find out more about us, about who we are and what we do.
There are more details about Rotary membership HERE
Weekly Meetings
Amwell Rotary Club meet each Monday (Bank Holidays excepted) at 7.30 pm for 8:00 pm at
The Salisbury Arms Hotel
Fore Street
Hertford Hertfordshire
SG14 1BZ
Telephone 01992 583091
You can find a map and travel directions to the Salisbury Arms HERE
What happens at meetings?
Usually we will have a guest speaker - although roughly once every two months we will hold club committee meetings. Following committee meetings, we will then have a business meeting a week or two after.
There are more details HERE
Our Satellite Group meet more informally once a month to discuss projects and activities.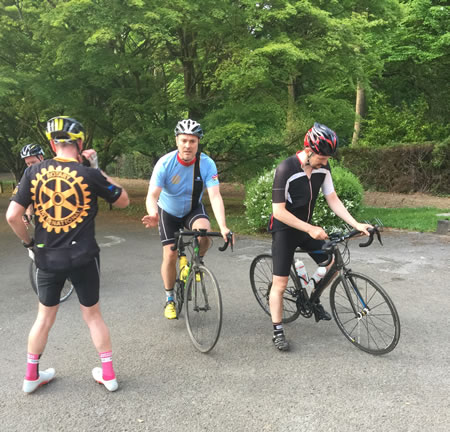 They remain full members of Amwell Rotary Club and are free to come along to the main Monday Meetings whenever they want.
There are more details HERE
The fellowship we enjoy over a meal or a beer and a chat, and the friendships that grow from that, reflect in the many and varied service projects we undertake and the other good causes that we support each and every year.
Read more about our activities HERE
Interested?
Then why not CONTACT us to arrange to come along to one of our meetings as our guest?
We may well surprise you as there really is rather more to us than just meeting once a week for dinner!
Where is Amwell?
Great Amwell is a small village in the county of Hertfordshire, England, some twenty miles North of London.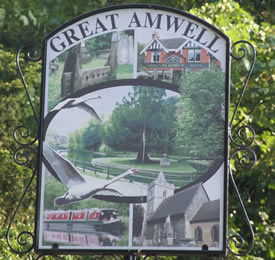 When Amwell Rotary Club was formed, the name was chosen as being pretty much at the midway point between the three already existing Clubs - Hertford, Ware and Hoddesdon.
Now as then though, our membership is mainly drawn from the larger towns and villages in the surrounding area.
Royal Nuptials Challenge
A Huge Thank You to everyone who came along to Wodson Park on Friday night to support our Royal Nuptials Challenge quiz night. It was a great evening and will have raised a substantial amount for Amwell Rotary's charity funds.
Here are a couple of photos of the winning team with their brand new Amazon Echo Dots!
School Choir Competition
The five finalist schools have now been selected by our judges!
They are: -
Abel Smith (Hertford), Cranbourne (Hoddesdon), Roselands (Hoddesdon), St Cross (Hoddesdon), and St Joseph's (Waltham Cross)
Congratulations to these five schools who will now go on to perform at the finals concert to be held on May 24th at the Spotlight Theatre in Hoddesdon.
A huge thank you too to the twelve other schools who entered.
Welcome David!
We were delighted to welcome David Davies to membership of Amwell Rotary and Rotary International at our meeting on March 26th
Great to have you aboard David!
David is pictured with President Tennille and members of Amwell Rotary.
Lest we Forget ...
A number of Rotarians from our Satellite Group went on a cycling tour to Belgium recently
Whilst there, they took the opportunity to lay a wreath at the Menin Gate Memorial in memory of those brave men who gave their lives in the Great War
The names on the wreath are those of the men from Amwell in Hertfordshire, who gave their all for us.

We WILL remember them.
Polio Eradication
We believe that the world is on the brink of seeing "the very last case of polio"
Rotary International has been focusing on eradicating the disease for over 30 years.
Eradicating the last few cases is a big challenge as they are in countries where transporting and delivering the vaccine is often disrupted by civil war, conflict and local hostility
Despite this, the number of cases is falling dramatically due to fantastic work from Rotarians around the world.
It is within our grasp, we must not rest on our laurels.
If we are successful, it will be only the second disease affecting humans to be eradicated.
The first was smallpox.
Read more HERE
Rotary Global Scholars
We were delighted to welcome Rotary Global Grant Scholars Chelsea Phipps and Mima Fondong to meetings recently.
They both gave excellent talks and proved once again just how valuable this Rotary programme is.
Thank you both!
Chelsea is pictured above with President Tennille.
And here's a photo of Mima with Tennille
The Rotary Foundation
The Rotary Foundation marked it's centenary in 2017.
An endowment fund, set up by Rotarians in 1917 with an initial contribution of $26.50, became a not for profit corporation known as The Rotary Foundation in 1928.
Upon the death of our founder, Paul Harris, in 1947, a massive influx of Rotarian donations made in his honour - totalling some US$2 million - launched the Foundation's first programme, graduate fellowships, later to be known as Ambassadorial Scholarships and now Rotary Global Scholars (See above!)
Today, contributions to the foundation total more than US$80 million each year and support a wide range of humanitarian grants and educational programs that enable Rotarians to bring hope and promote international understanding throughout the world.
Read more about it HERE
Paul Harris Fellowships
Named after our founder, the Paul Harris Fellowship award marks outstanding service to Rotary or to the community and the club makes a donation to the Foundation in recognition of each award presented.
For the first time ever, Amwell Rotary recently awarded a second Paul Harris Fellowship to one of our members.
Congratulations to Paul Manning who thoroughly deserves this recognition.
It's fair to say that he was somewhat surprised
He's pictured above with Immediate Past President Sheila who presented him with his Sapphire PHF pin
Follow us on Twitter
May 2018 is .....
Youth Service Month
May is designated as Youth Service Month in order to focus on all Rotary activities that support the development of young people up to the age of 30.
Rotary Youth Service projects recognize the importance of empowering youth and young professionals through leadership development programs such as Rotaract, Interact, Rotary Youth Leadership Awards, and Rotary Youth Exchange.
There's more about Amwell Rotary's youth projects HERE
2017 - 2018 Donations
Thanks to the generosity of everyone who supports our various fundraising activities we have been able to make donations to several charities and good causes this Rotary Year.
These include, among others: -
Shelter Box and Aquabox
African Agri Aid
Water Aid
Isabel Hospice
SPACE
Lend with Care
CHIPS Playscheme
Toddler's Play Area renovation at Ware Lido
Toilet Twinning project with Cranbourne School
Hoddesdon Organisation for Local Disabled
Amwell View School - Riding for The Disabled
The Rotary Signature and the Rotary Mark of Excellence are the exclusive property of Rotary International and they are used here under Rotary International Internet Policy Guidelines.
Links in the text are denoted by CAPITAL letters. External Links from this website open in new windows or tabs. Please close them to return to this site.
Each page has a link back to this home page and there is also a link to the site map at the foot of each page.
Amwell Rotary Club cannot be responsible for the content of external sites.
We can be contacted by email to secretary@amwellrotary.org.uk