Chartered September 22nd 1980
Amwell Rotary Club
Amwell Rotary Club is part of the worldwide fellowship of Rotary Clubs that makes up Rotary International.
Rotary clubs are firmly based within local communities, with their members meeting on a regular basis to enjoy friendship, networking, and to plan projects that will benefit the lives of others.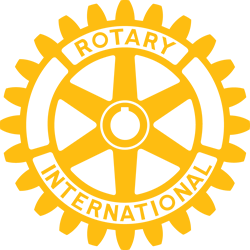 We work to give something back to our communities - locally, nationally and globally.
We always welcome enquiries from like minded people who want to find out more about us, about who we are and what we do.
There are more details about Rotary membership HERE
Weekly Meetings
Amwell Rotary Club meet each Monday (Bank Holidays excepted) at 7.30 pm for 8:00 pm at
The Salisbury Arms Hotel
Fore Street
Hertford Hertfordshire
SG14 1BZ
Telephone 01992 583091
You can find a map and travel directions to the Salisbury Arms HERE
What happens at meetings?
Usually we will have a guest speaker - although roughly once every two months we will hold club committee meetings. Following committee meetings, we will then have a business meeting a week or two after.
There are more details HERE
Our Satellite Group meet more informally once a month to discuss projects and activities.
They remain full members of Amwell Rotary Club and are free to come along to the main Monday Meetings whenever they want.
There are more details HERE
The fellowship we enjoy over a meal or a beer and a chat, and the friendships that grow from that, reflect in the many and varied service projects we undertake and the other good causes that we support each and every year.
Read more about our activities HERE
Royal Nupitials Challenge
To celebrate the wedding of Prince Harry and Meghan Markle, Amwell Rotary Club proudly present a Royal Nuptials Challenge quiz
An assured evening of fun with valuable prizes for the winners!
May 18th at Wodson Park, Ware. 7:30 pm start. Tables of 6 at £15.00 a head to include a light supper.
Schools Choir Competition
We now have 17 entries for the 2018 competition and the 5 finalists will be announced on March 29th.
The finallists will all perform at the finals concert, to be held at The Spotlight in Hoddesdon on May 24th.
More details will follow soon!
Rotary Global Scholars
It was an absolute pleasure to welcome Rotary Global Scholar Mima Fondong to our meeting on January 15th 2018.
She gave an excellent talk and proved once again just how special and how committed the Rotary Global Scholars are.
Thank you Mima!
She's pictured above with President Tennille.
Santa's Sleigh 2017
A HUGE Thank You!
Santa took Rudolph and his sleigh to various locations in Ware, Hoddesdon and Hertford in the weeks leading up to Christmas 2017.
A huge thank you from all of us at Amwell Rotary to those of you who came along to see him and who donated so generously!
Interested?
Then why not CONTACT us to arrange to come along to one of our meetings as our guest?
We may well surprise you as there really is rather more to us than just meeting once a week for dinner!
Where is Amwell?
Great Amwell is a small village in the county of Hertfordshire, England, some twenty miles North of London.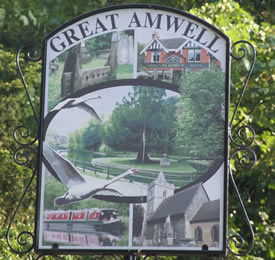 When Amwell Rotary Club was formed, the name was chosen as being pretty much at the midway point between the three already existing Clubs - Hertford, Ware and Hoddesdon.
Now as then though, our membership is mainly drawn from the larger towns and villages in the surrounding area.
Polio Eradication
We believe that the world is on the brink of seeing "the very last case of polio"
Rotary International has been focusing on eradicating the disease for the past 30 years.
Now, as widely reported in the UK media, Eve Conway, 2016 to 2017 Rotary President in Great Britain and Ireland, went on record to say that we are on the verge of making polio a disease of the past.
If we are successful, it will be only the second disease affecting humans to be eradicated.
The first was smallpox.
Read more HERE
Follow us on Twitter
The Rotary Foundation
The Rotary Foundation marked it's centenary in 2017.
An endowment fund, set up by Rotarians in 1917 with an initial contribution of $26.50, became a not for profit corporation known as The Rotary Foundation in 1928.
Upon the death of Paul Harris in 1947, a massive influx of Rotarian donations made in his honour - totalling some US$2 million - launched the Foundation's first programme, graduate fellowships, later to be known as Ambassadorial Scholarships.
Today, contributions to the foundation total more than US$80 million each year and support a wide range of humanitarian grants and educational programs that enable Rotarians to bring hope and promote international understanding throughout the world.
Read more about it HERE
The Rotary Signature and the Rotary Mark of Excellence are the exclusive property of Rotary International and they are used here under Rotary International Internet Policy Guidelines.
Links in the text are denoted by CAPITAL letters. External Links from this website open in new windows or tabs. Please close them to return to this site.
Each page has a link back to this home page and there is also a link to the site map at the foot of each page.
Amwell Rotary Club cannot be responsible for the content of external sites. We can be contacted by email to secretary@amwellrotary.org.uk